Zürich Friends of Haskell
The Zürich Friends of Haskell is a club founded to foster the worldwide knowledge of functional programming, and Haskell in particular. We organise meetups and events in the Zürich area.
---
About us
The HaskellerZ meetup group has been around since 2011. After organising many meetups and events, in particular ZuriHac, which attracts people from all over the world, there was a need to formalise our group a bit more.
In the short term, this allows us to work together better with sponsors for ZuriHac. In the long term, however, we would like to guarantee the long-time success of a Zurich-based Haskell interest group, not dependent on one or two key volunteers.
The rules are set up so that we encourage non-monetary contributions (e.g. giving a talk). Of course, membership is optional and not required to attend any of our events.
Become a member!
For members, we ask a yearly contribution of either:
giving at least one talk at the Zurich HaskellerZ meetup,
helping organize ZuriHac in an official role,
serving on the board of directors for the Zurich Friends of Haskell, or
providing other voluntary work asked for by the board of directors.
Occasionally, we reach out to our members with volunteering opportunities. Also, once a year we would send you an email to confirm and update the membership.
---
Last meetup
Eliane Schmidli: An Introduction to Functional Reactive Programming and Yampa
Thursday 2 February, 19:00
Reactive applications (for instance in robotics, graphical user interfaces, or gaming) are difficult to program. Most such applications are programmed in a low-level imperative style, forcing the programmer to think about multiple levels of abstraction simultaneously.
Functional Reactive Programming (FRP) proposes an approach that is declarative and therefore more modular and composable. Initially suggested in 1997 by Conal Elliott and Paul Hudak, the idea of FRP has since then undergone several iterations and is now used in a variety of application areas.
In this talk, Eliane will introduce us to the basic ideas behind FRP as they were originally proposed, show its evolution over the years, and end with some examples of how this could be used today within the Yampa framework in Haskell.
As per usual, there will be an opportunity for food, drinks and discussion after the event.
---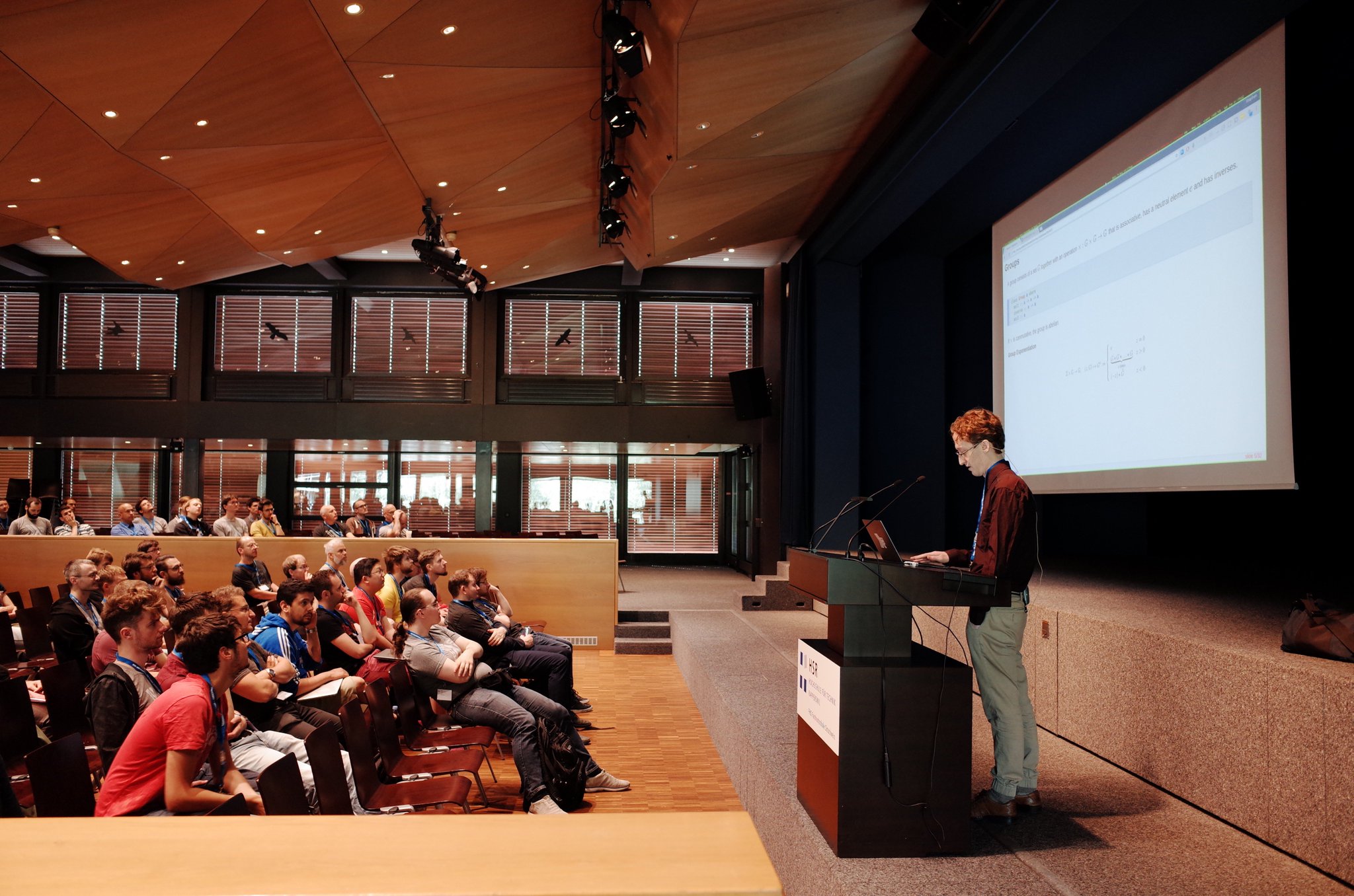 ZuriHac
Our main yearly event is the organisation of ZuriHac, a yearly Haskell Hackathon that attracts over 300 attendees. It is probably one of the oldest and definitely the largest Haskell Hackathon currently in existence.
The first ZuriHac was organised in 2010 at the Zürich Google office by Johan Tibell and Christophe Poucet. Currently, we are organising it at the Hochschule für Technik Rapperswil with the help of many Zürich Friends of Haskell members and volunteers.
---
Videos
We try to record all of our meetups and keynotes so Friends of Haskell who are not in the Zürich area can enjoy the content as well.
This playlist contains all our Haskell-related videos.
We have also collected the slides of the presentations in this repository. Unfortunately, the collection is currently incomplete.
---
Board
Current board members of the Zürich Friends of Haskell association:
Andreas Herrmann (President)
Bas van Dijk (Vice-President)
Silvio Böhler (co-Treasurer)
Raphael Rotondari (co-Treasurer)
Adam Bratschi-Kaye
Cazim Hysi
Farhad Mehta
Jasper Van der Jeugt
Past members:
Artem Chirkin
Arvin Moezzi
Mathias Koerner
Niklas Hambüchen
Simon Meier
---